Upcoming Scheduled Maintenance: On Sunday, December 10, 2023, from 3:00 a.m. through 6:00 a.m. ET, some features of the website, including online forms, documents and payments, may be unavailable. We apologize for any inconvenience.

Learn More
Welcome to MortgageQuestions.com

Helping homeowners and communities is what we do. PHH Mortgage is committed to helping our customers save money, build equity and, most importantly, stay in their homes.
PREFER TO PHONE IN YOUR PAYMENT?
Make a one-time payment anytime by phone at 1-800-449-8767 - it's quick and easy!
HAVING TROUBLE PAYING YOUR MORTGAGE?
Learn more about your options or get started today.
Newly Upgraded MortgageQuestions Mobile App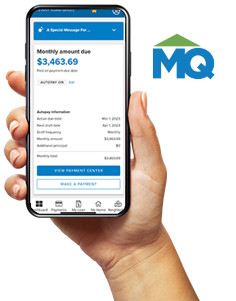 All of your loan information in one app.
Download or upgrade to the latest version today. We've completely redesigned our mobile app interface. Enjoy simpler and more intuitive navigation, improved functionality and other mobile-friendly enhancements. Managing your account on the go has never been easier!
This is a carousel with several slides summarizing different articles. Use Next and Previous buttons to navigate, or select the link at the bottom of each slide to open the article.